The Anti Art Fair, in collaboration with the award-winning The Other Box, hosted a range of high-quality workshops and classes at Peckham Springs.
The satellite venue was an educational hub with daily workshops, classes and zine fairs. The full timetable of sessions is below: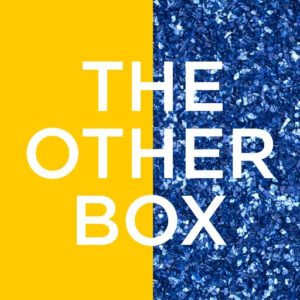 The Full Programme
Friday 10.30 - 12.00
Womb Stories (Conference) By Zachi Brewster
Our womb space and energy hold the stories and memories that form us. They are where we hold our sexuality, creativity, passion, deep knowing, expression, sensitivity, emotionality, imagination and profound insights. This workshop will explore how art can help us process grief and clear any stagnant energies we hold on our journey of creativity, self acceptance and ultimately self love. This is an inclusive space for individuals with and without wombs to explore, remember and embrace the foundations of their sacred creative, reproductive and sexual power held in their wombs spaces.little gift to take away too. Such as a tea or affirmations.
Friday 13.00 - 14.30
Recycle T-Shirts (Bar) By Morgan & Jenni
Join Morgs & Jen at the Anti Art Fair where they will be hosting a workshop, guiding you through transforming an old t-shirt into yarn, then hand knitting it into a chunky necklace! With step by step instruction M & J will show you how to create your own recycled jersey yarn, then with a couple of simple knitting stitches turn it into a unique chunky necklace. Once you've learnt this new technique you can keep making your own yarn at home to knit, crochet or weave other items at home! Some knitting experience would be great but not essential!
Friday 15.00 - 17.30
DIY Fabric Patternmaking (Bar) By Indiana Lawrence
Learn how to design a repeat pattern, cut it from lino and print it onto your own clothes/bags. We will look to the work of female textile designers for inspiration and use DIY techniques to produce your own one-off print by hand. The focus is using shape and typography to create abstract designs.
Saturday 10.30 - 12.00
How To Love Yourself (Gallery) By Sanah Ahsan
Psychologist, poet and activist Sanah Ahsan hopes to create a healing space for women of colour to meet themselves with self-compassion and love, through meditation, poetry and therapeutic exercises.
Pop Art Heritage (Bar) By Farah Soobhan
Taught by pop artist Farah Soobhan, you will be looking at the pioneers of the Pop Art movement, exploring aspects of your heritage and identity, and using specific painting, typography and collage techniques to create your own pop art canvas.
Breakfast Clubbing (Conference) By Rosie Whiting
Wake up your body. Wake up your mind. Shake your bits. Wiggle your hips! Breakfast clubbing is a morning dancing session where all bodies are welcome. Dancing is good for you! Mind, body and soul! Add your favourite dancing tunes to the playlist, grab a coffee or juice and together we will dance our way into the day ahead!
Saturday 13.00 - 14.30
Islamic Illumination (Gallery) By Esra Alhamal
Every student will be provided with a Persian inspired pattern to paint with gouache gold to take home. Students will get a glimpse to the world of traditional Islamic illumination.
Anti-Art Jewellery Making (Bar) By Stööki
This workshop is focused around the creation and personalisation of rings and pendants which are led by Stööki's expert jewellery technologist Nadia Abbas. In this workshop you will:
• Get an insight in to the jewellery making process
• A wax ring or pendant master to customise with your own design
• A tutorial covering a range of jewellery making techniques
[Optional extra cost] At the end of the workshop you will also have the option of turning your personalised wax ring or pendant master into a finished jewellery piece.
Yoga For EveryBODY (Conference) By Hanna Thomas (Looks Like Yoga)
Have you ever felt like you don't 'belong' in a yoga studio? Are you looking to practice in an open, judgement-free space? Perhaps high studio prices have been putting you off? If you've ever felt like yoga isn't 'for you' and want to join a community of diverse yogis come to this class! Our classes are suitable for all levels and we actively encourage complete beginners to come and try yoga in a safe environment. Bring a mat!
Saturday 15.00 - 17.30
Crochet Craftivism (Gallery) By Georgia Little
For this workshop, we will learn the basics of crochet, and explore how it can be a used in the context of activism and self-care. We hope to bring people together to think about some social issues and share ideas on how we can improve our communities, learning a new skill at the same time. This workshop will be an alcohol-free space.
Wood Photo Collage (Bar) By Art Placebo
Let your creativity soar! Observe, look around you and take a photograph of what catches your eye: Art Placebo will teach how to turn your pictures and compositions in artworks you can take home. During the workshop you'll learn how to transfer images onto a wooden panel, creating a very interesting vintage effect. In this way you'll be able to explore and experiment with new materials, discovering alternative ways of printing.
Beatbox For Beginners (Conference) By Nadine Rose Johnson
Ever wanted to master music, without the expensive lessons? Want to wow your friends? Would you like to perfect a new, unique skill? How about just have some musical fun? Our 'Beatbox for Beginners' class will teach you everything - timing, rhythm, musical composition and performance. Become a master of modern music today! (No musical experience or ability necessary)
Sunday 13.00 - 14.30
Crown Yourself (Gallery) By Lalah-Simone Springer
Using pompoms, fake flowers, sequins and chain you'll learn how to create a head-turning headpiece to wear at festivals and anywhere you want to stand out. All tools and equipment will be provided - just bring an idea and we'll help you to bring it to life!
Collaborative Zine Making (Bar) By Cheer Up Love
We will make a collaborative zine where participants will all create their own small artwork in response to a series of questions about self-care and self-love for activists and resisters. These artworks will be displayed during the workshop (and afterwards if there is wall space) and then gathered together into a digital zine which will be shared with the collaborators afterwards, and designed as a record and celebration of the day. Attendees can take their artwork if they want to.
Werk Out Twerk Out (Conference) By Bunni Morretto
Cited as the Twerk Extraordinaire and the first black finalist of Miss Burlesque UK Bunni Morretto is here to teach you how to twerk it to the top. Most people think you need a big butt to be able to Twerk but that's simply not true.
Sunday 15.00 - 17.30
Protest & Positivity Banners (Gallery) By Chloe Booth
As activists and resistors we can easily find ourselves burnt out and it's at these times we need reminders to hope. In this workshop attendees will create their own miniature textile banners featuring messages of hope for the future. It will most suit people with some basic sewing skills, but we can accommodate willing learners too.
PaintFix: Make Art & Drink Wine (Bar) By Lauren Little
Dark Yellow Dot presents PaintFix!
Make art while enjoying a glass or two of some fine wine to help uncork that creative side! Indulge yourself as you follow along with the art instructor by painting something fun to take home. If you're worried you'll be a messy painter, you might want to bring an apron or some old clothes to wear, but all other equipment will be provided. This workshop is perfect for groups of friends, date nights and if you wanna ride solo it's a great chance to meet new people! Beginners are especially welcome just as long as you're over 18+ yrs!
Shut Down Street Hip Hop (Conference) By Shanice Mears
Sometimes we need to let loose, feel silly and get some flexing on. This class is about fun, no judgement and just all round street dance.